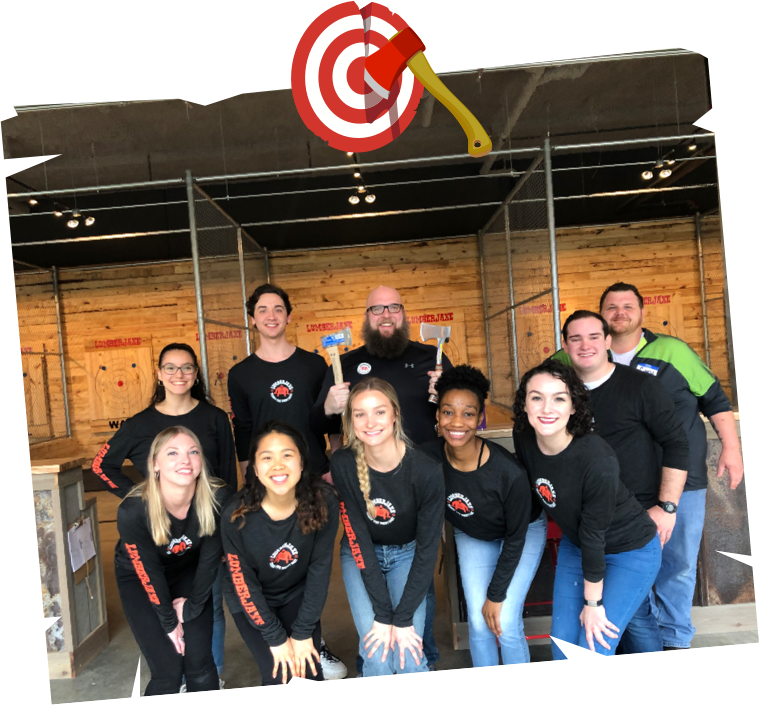 ABOUT LUMBERJAXE
LumberJaxe Axe Throwing in Athens, GA offers a unique axe throwing experience for everyone.
Whether you're new to axe throwing or a seasoned pro, young in age (or at heart!) or just looking for a new challenge, LumberJaxe welcomes you with open arms, axes in hand.
We are not just another axe throwing bar. We've carefully curated a modern, fun and relaxed atmosphere that is the perfect venue for any occasion. Maybe you're looking for a new way to spice up your date night or find a new hangout spot with friends. If you're looking for a memorable venue for your next corporate event, birthday or bachelor/bachelorette party, LumberJaxe has you covered.
LumberJaxe isn't just about axe throwing. It's a way of life, a means to connect with others on a new level, share experiences and encourage confidence. We provide a safe and fun space for all to enjoy.
When our first location opened here in Athens, Georgia, USA in 2019, it wasn't long before we knew it was time to open our second location in Ottawa, Ontario, Canada. With a trademark in the USA, Canada, Australia and New Zealand, who knows where you'll find us next!?
JAXE
Nobody is entirely sure where he's from, outside the fact that it was in the backwoods near your local Lumberjaxe location.
Jaxe isn't a hipster, he doesn't have a beard by choice, he was born this way. Rough and tumble on the outside but warm and friendly on the inside. His legacy is his guests' success. When throwers leave with a smile on their face and a need to share the love of axe throwing in their hearts, he can rest his head with pride.
JILL
Jill won't take second place to anybody when it comes to axe throwing prowess. Her husband, Jaxe, is no exception.
Jill stands by her man but she won't take second place or a back seat to anybody when it comes to anything, especially axe throwing. If she's got her sights set on a bullseye, she is gonna get one and there is nothing you can do about it. Jill believes that you can't judge a book by its cover. She encourages everyone to visit LumberJaxe, no matter their size, shape, gender or physical ability.
We Throw Axes…Because We Can
LumberJaxe is Athens, Georgia's ultimate axe throwing experience and event space.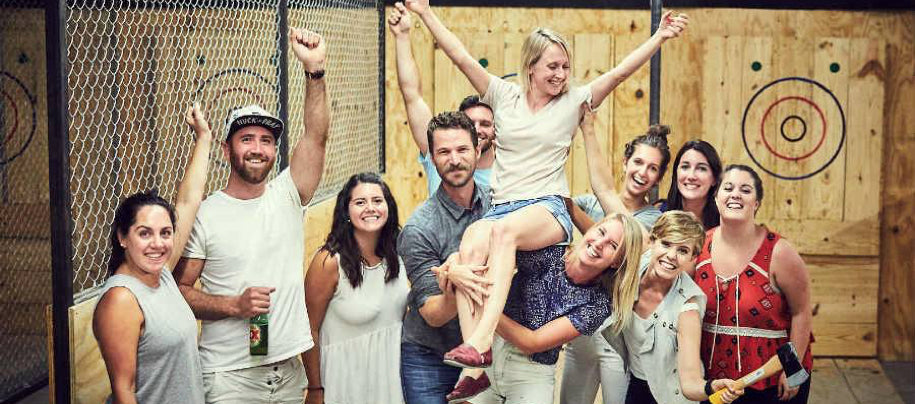 ATHENS, GEORGIA
LumberJaxe offers 6 axe throwing lanes with 12 individual targets. Enjoy our spacious lounge serving craft beer, wine, and other drinks. Conveniently located 3 blocks from North Campus on 510 N Lumpkin. Event capacity for 200 people with catering and coaching available. Online bookings or event reservations are highly recommended.
VIEW LOCATION