Eatonton
LumberJaxe Eatonton is the ultimate axe throwing experience and private event destination. We offer 6 axe throwing lanes with 12 individual targets. The perfect place to THROW THE NIGHT AWAY
EATONTON'S HOURS OF OPERATION:
Monday: 4pm - 10pm

Tuesday: 4pm - 10pm

Wednesday: 4pm - 10pm

Thursday: 4pm - 10pm

Friday: 4pm - 12am
Saturday: 2pm - 12am

Sunday: 12pm - 6pm
OPEN HOUSE
Come tour the space for your next team building, holiday or client appreciation event. Call or email us ahead of time, to let us know you're coming.
Friday - Saturday: 2pm - 12am
BOOK NOW!
LEARNING THE BASICS
OF
AXE-THROWING
LumberJaxe is the ultimate axe throwing experience & private event destination
Everyone – regardless of skill or ability - can learn how to throw an axe with accuracy in a very short time. Follow our simple guide to discover how much fun it is to watch your axe split the target every time!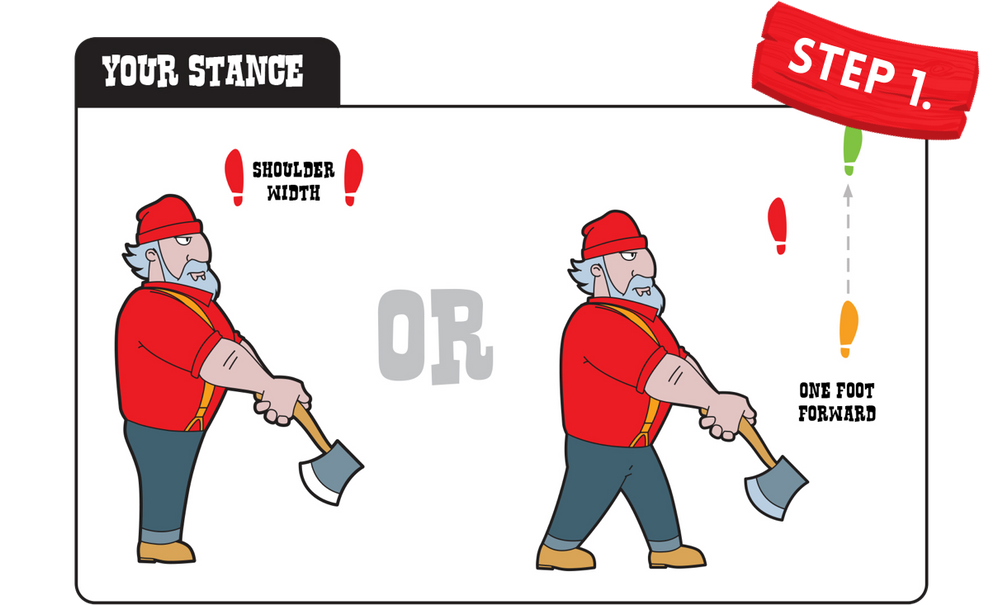 Step 1. Stance
Stand with your feet shoulder width apart. Ensure your shoulders are square to the target. Now you're ready to throw!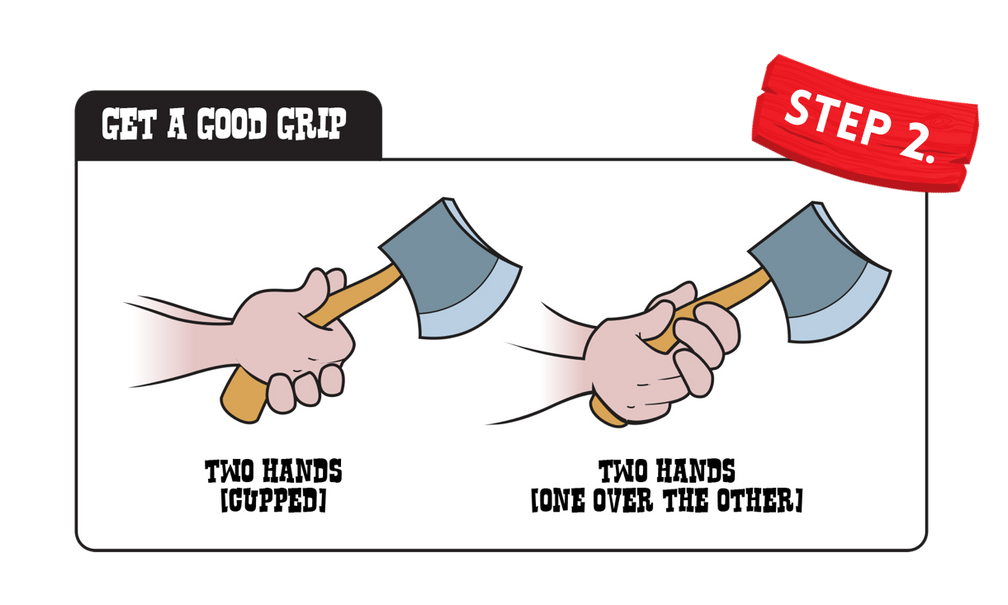 Step 2. GET A GOOD GRIP
Grab the axe with your dominant hand and the blade facing away from you.  For a double handed throw (advisable to start), cup your other hand over your dominant hand.
Step 3. Motion
Reach back with the axe over your head and step forward with your non-dominant foot.  i.e. If you're right handed – you'll step forward with your left foot.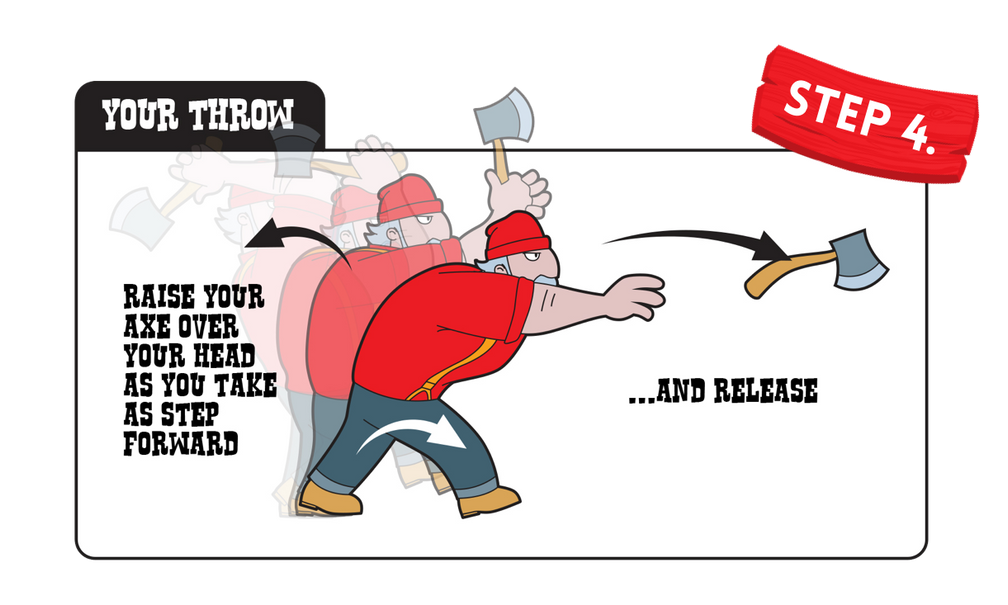 Step 4. Release
Release the axe as if you are aiming a foot above the bullseye.  The weight of the axe will bring it down to the target.  PRO TIP: after you release, finish by pointing at the bullseye; you'll have a better chance of hitting it!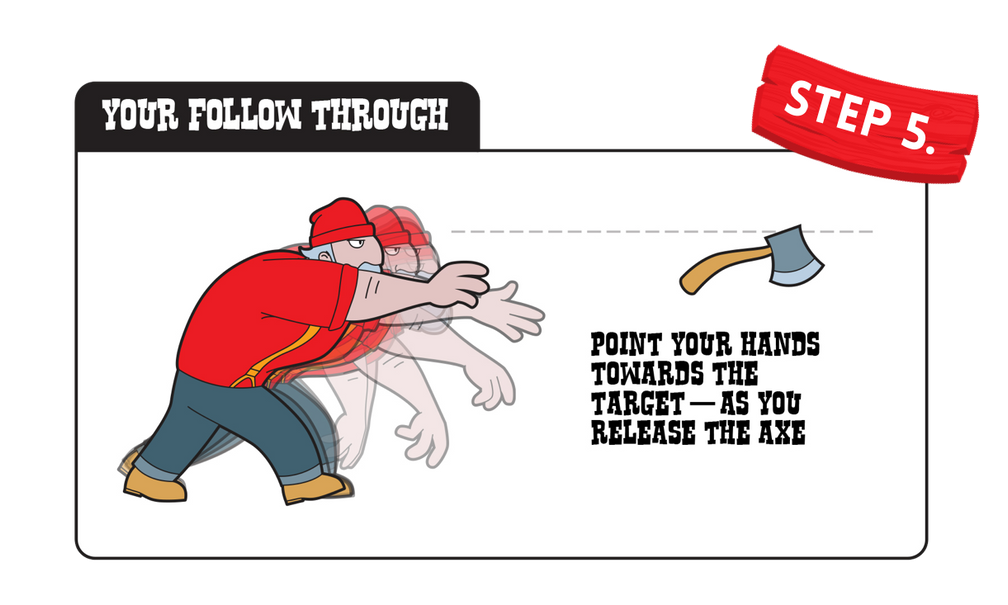 Step 5. Stick It!
The axe should rotate once over and stick in the target.  Sometimes it doesn't.  It happens to the best of us. Lean on our friendly, helpful coaches for adjustments to fine tune your throwing motion and improve your results. 
JAXE
Nobody is entirely sure where he's from, outside the fact that it was in the backwoods near your local Lumberjaxe location.
Jaxe isn't a hipster, he doesn't have a beard by choice, he was born this way. Rough and tumble on the outside but warm and friendly on the inside. His legacy is his guests' success. When throwers leave with a smile on their face and a need to share the love of axe throwing in their hearts, he can rest his head with pride.
JILL
Jill won't take second place to anybody when it comes to axe throwing prowess. Her husband, Jaxe, is no exception.
Jill stands by her man but she won't take second place or a back seat to anybody when it comes to anything, especially axe throwing. If she's got her sights set on a bullseye, she is gonna get one and there is nothing you can do about it. Jill believes that you can't judge a book by its cover. She encourages everyone to visit LumberJaxe, no matter their size, shape, gender or physical ability.
We Throw Axes…Because We Can
LumberJaxe is Athens, Georgia's ultimate axe throwing experience and event space.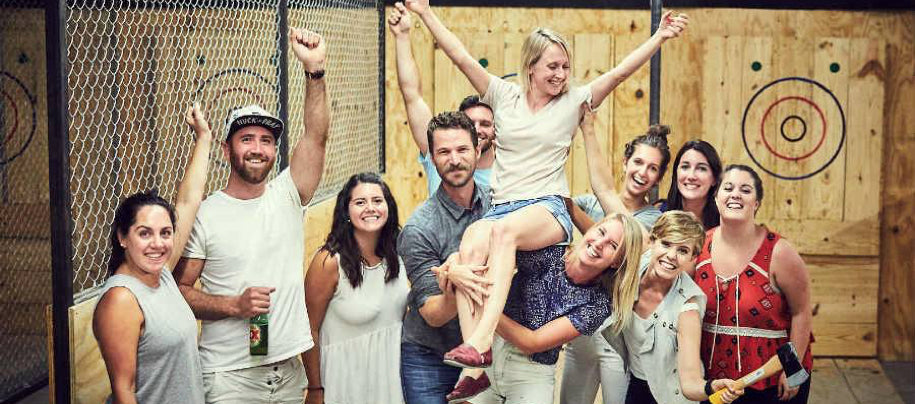 ATHENS, GEORGIA
LumberJaxe offers 6 axe throwing lanes with 12 individual targets. Enjoy our spacious lounge serving craft beer, wine, and other drinks. Conveniently located 3 blocks from North Campus on 510 N Lumpkin. Event capacity for 200 people with catering and coaching available. Online bookings or event reservations are highly recommended.
VIEW LOCATION
Testimonials & Reviews
from Axe-Throwers
Lumberjaxe is
Georgia's

ultimate axe throwing experience & private event destination.
Chris Milllan

Athens, GA

Great venue for axe throwing. I like the setup where you can pick up a drink and play axe throwing games.

The trainers are great at teaching you and guiding the session. Definitely will have to go back again!
David Poynter

Athens, GA

Great fun with a group of 16 friends (guys and girls). First time for all of us and we had an awesome afternoon.

Staff was great and taught us how to throw properly and we were all able to score points by the end of our tournament. Will definitely be back!
William Cerros

Athens, GA

My friends and I went here for the first time last night. The atmosphere was great and staff was even greater.

Cory was our coach and overall wholesome nice guy. Our experience was amazing and we will definitely return.
Leah Smith

Athens, GA

We began our Girls Night Out here and had a blast! This was the third different axe throwing place I've been to, and while the others were fun, Lumberjaxe was by far my favorite! The guide/instructor was great at giving advice when needed but not hovering. Awesome venue, great location, and excellent staff. I definitely plan on going back.
Craig S.

Athens, GA

We had tons of fun! The staff is extra friendly and forgiving for those who can't throw an axe. 😊 Fun games and fun atmosphere. It's even better with the craft beers that are served at the bar! Will definitely be going again!!
Andrew H.

Athens, GA

What a great bar/event space! Plenty of room for mingling in between throws, and Throwing axes is a 100 times more fun than I was expecting! This is something everyone should try at least once.
FOLLOW US ON INSTAGRAM
#LUMBERJAXE